Half of Ad Spend: How Limiting Search Term Report Affects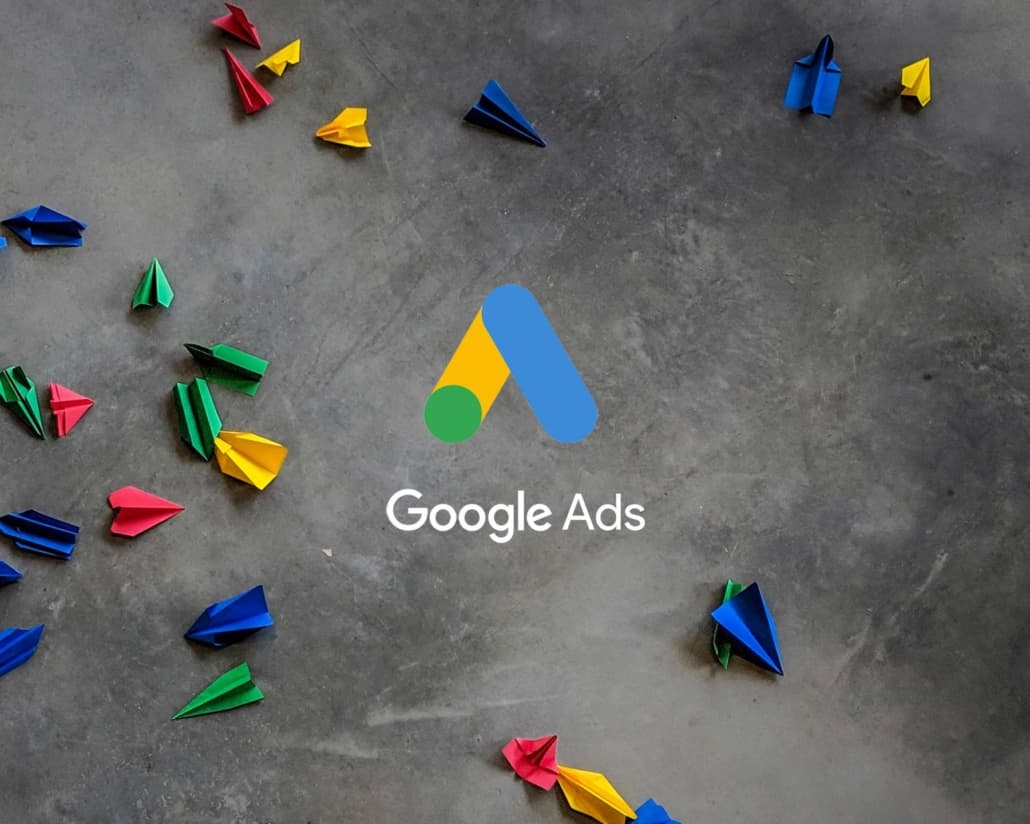 Use this script to find out how restricting the search term report really affects your Google Ads account
Like the day before yesterday in the Performance Marketing News (KW38) reported that on September 2nd, Google massively restricted the transparency of the search term report in Google Ads. Although there is currently one Workaround, but it should only be a matter of time before the search term report in Google Analytics is also restricted. But how much does this change actually affect us?
To get to the bottom of this question, Frederick Vallaeys, co-founder of the PPC tool provider Optmyzr and ex-Googler, has now published a Skript on Search Engine Land. Using the Google Ads API, the script compares the overall performance of all search campaigns in your account to the performance of the search term report. It then presents you with the percentage difference measured in either clicks, impressions or costs in a Google spreadsheet.
One of our accounts came up with these numbers (using cost as the metric).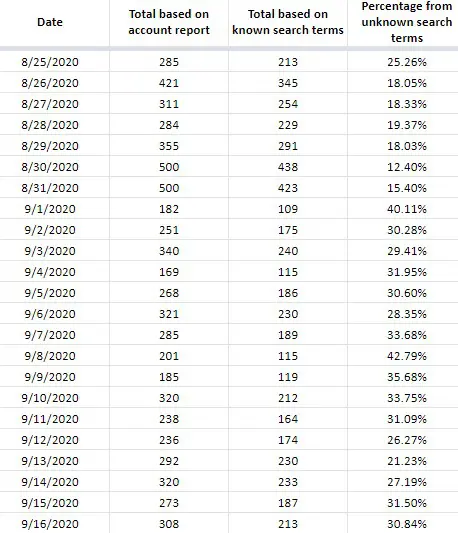 It is interesting that even before the change on September 1st, quite a few search terms were already hidden. The limit for the masking was only obviously significantly lowered.
A clear chart is also displayed in the second tab. Google's September 1 changes are marked with a red arrow in the graphic below.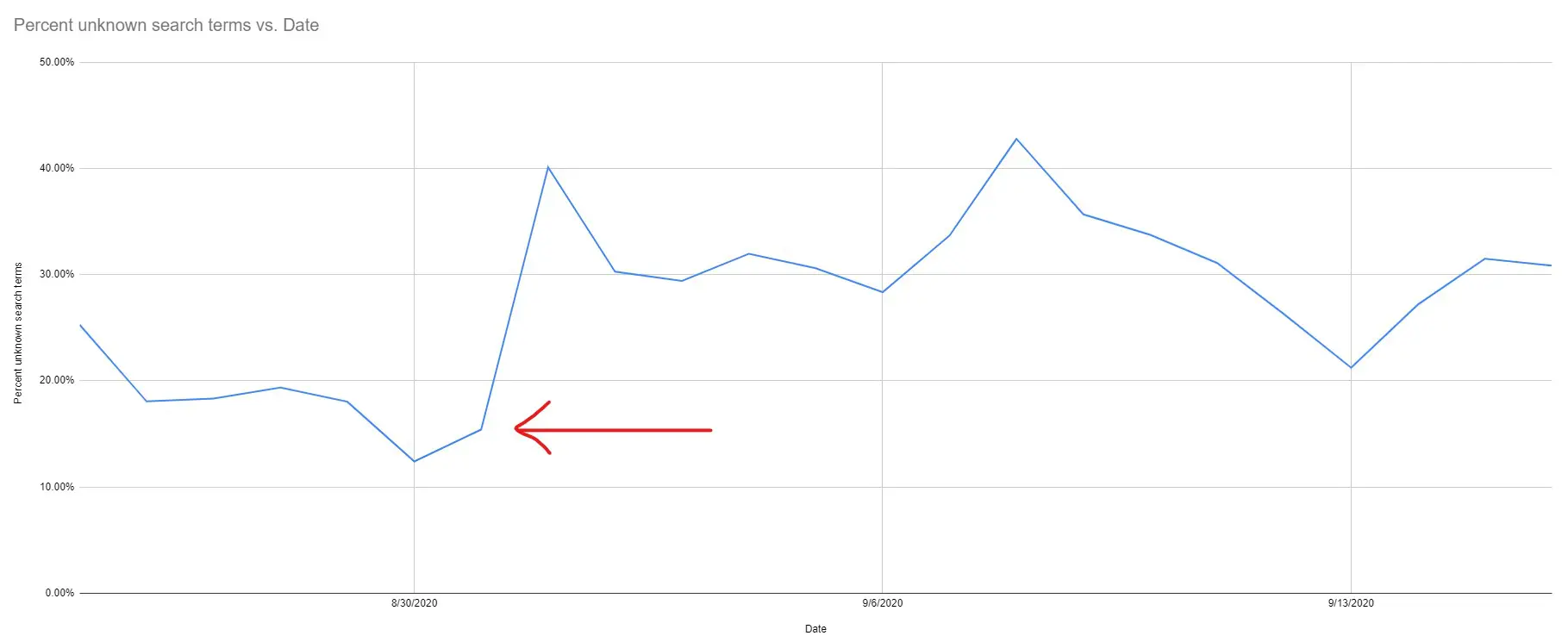 As you can see, the impact on this account is very clear. The proportion of hidden search terms has roughly doubled since September 1st, from 15-20% to 30-40%.
Findings
Frederick Vallaeys has also used the script in several accounts and has come up with some interesting insights:
Using impressions as a metric, the difference is hard to tell. Search terms that had only generated impressions but no clicks were heavily filtered out even before the change.
Plus, over 70% of his impressions come from filtered search terms! But that was the case even before the change.
With cost or clicks as the metric, the change is very noticeable across accounts. His figures roughly match ours: We can no longer see what the money was spent on for around half of our advertising expenditure (except currently with the Workaround).
The effect is lower in smart shopping campaigns, since most of the search terms were not visible here even before the change. One of many reasons why smart shopping is not advisable.
The script
If you want to calculate the impact on your accounts as well, just use the script in Frederick Vallaeys' article on Search Engine Land. For those who are new to scripts, here's another guide:
To find out the impact of restricting the search term report on your account, simply paste the script below into a Google Ads script (Tools and Settings > Bulk Actions > Scripts).
Then replace "example@example.com" with your email address in line 8. Don't worry, your address is only for sending the result; it will not be shared with anyone or stored.
Optionally, you can adjust the period in days in line 7. In line 9 you enter the metric to be compared ("Impressions", "Cost" or "Clicks"). English terms can also be used for German account settings.
Now click on Preview below. You will then be asked to authorize the script with your Google account. Then again on preview.
You should now have received the link to the Google spreadsheet by email or be able to find it under Protocols.
If you need help setting it up or have any questions, please feel free to write to us.
Conclusion
The main finding here is probably that advertisers no longer know what half of their Google Ads budget is used for from now on. Assuming that the workaround will be fixed sooner or later, one thing is more important than ever: Build your ad groups as granularly as you can! And never (without good reason) use broad match keywords!
The more granular your campaign structure, the more control you have over the search terms actually advertised. However, this also means greater support and a high one-off set-up effort.
Bonus: Easily build and maintain granular campaign structure with Optmyzr
In order to keep control of your ad spend even after this change, it is extremely important to structure your account as granularly as possible. One tool that can help with this is Optmyzr, one of the most popular SEA tools. It is used to automate and simplify a large number of the routine tasks of a Google Ads supervisor. Unlike Google's own automations, Optmyzr's supervisor retains full control and can create their own rules and workflows.
One of many features allows the user to create thousands of SKAGs (single keyword ad groups) with just a few clicks. And thanks to adjustable optimization rules and automated A/B tests, optimization is still possible even with a very large number of ad groups.
The tool was created in 2013 by Frederick Vallaeys (who also wrote the script presented in this article). Frederick, one of Google's first 500 employees, was himself involved in the development of Google Ads (then called AdWords) for over 10 years. I myself use Optmyzr regularly. There is a free 14-day trial version for those interested.